Nyssa sylvatica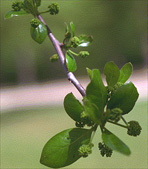 A native to the eastern U.S., Black Gum is noted for its outstanding and consistent fall red color. Even its lustrous green summer leaves are outstanding. Its wood, which is very strong, was used in colonial times for water pipes.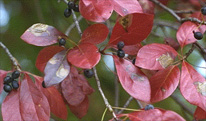 Following pollination, greenish flowers appearing in late spring develop into purple berries. Prefers moist soils.
Black Gum is one of the most elegant trees of the North American lowlands. Like its name, nymph of the woods, the black gum or tupelo grows more graceful as the lives of those who fall in love with it move on from generation to generation. Its fall color comes early and is unmatched.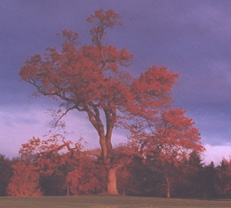 Like the white oak, Nyssa prefers an acid soil. Because of its tap root, it can be difficult to move except while young. 3"caliper trees, however, like the white oak, will move quite well just before bud break.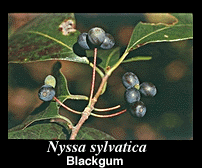 The gum's dark green elliptic glossy leaves make the whole tree glisten & sparkle in the summer sun; in fact, this glossy foliage often causes a 'what is it' from forest hikers. Nyssa sylvatica is truly magnificent in age; branching its beautifully twisted in great horizontal arms which end in a delicate twig structure as if trying to kiss the ground.
Blackgum is often found in swamps and bottomlands but also occurs on dry slopes. It seems to do well under a variety of moisture conditions and soil types throughout the state. Called tupelo by the Indians, it is also known as sour-gum and pepperidge.
The leaves of blackgum are often the first to turn bright scarlet in autumn. The deeply-checkered bark on old trees resembles alligator hide.
The stiff, horizontal twigs and limbs are also identifying characteristics. The fruit, which ripens in August, tastes sour but is relished by many mammals and more than 30 species of birds.
The strong wood, which is very resistant to splitting, was once used for ox yokes. Today it is used for flooring, rollers in glass factories, pistol grips, veneers, railroad ties, and furniture.